Whether you've just invested in a new leather couch or you're trying to keep your old one looking its best, it's important to know how to take care of it. With proper care and cleaning, your leather couch can last for years – even decades – giving you a beautiful piece of furniture to enjoy for a long time.
So, how do you take care of a leather couch? In this comprehensive guide, we'll cover everything you need to know, from the best ways to clean your couch to tips for preventing damage. By the end, you'll be an expert on leather couch care!
Why is Leather So Popular?
Leather is a durable and highly sought-after material for couches, as well as a wide variety of other products. Its popularity stems from its strength and natural beauty, as well as its ability to withstand wear and tear over time. Whether you're looking for premium quality in your furniture or simply want something that will last, leather is an excellent choice.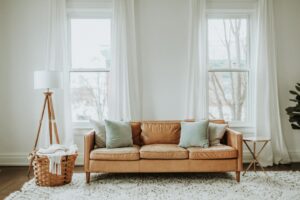 There are a few different types of leather that you may encounter when shopping for a couch. The most common types include full-grain and top-grain, which are made from the outer layers of the hide and have not been sanded or buffed down. Other less common options include split leather, which is a lower-quality leather made from the inner layers of the hide, and bonded leather, which is a mixture of real leather and synthetic materials.
So why is leather so popular for couches? Ultimately, it's because of its many unique qualities – strength, durability, beauty, and more. Whether you're looking for a couch that will look great and last for years to come, or simply want something comfortable to lounge on at the end of a long day, leather is an excellent choice.  It provides an upscale look to any room, and completely changes the atmosphere.
Cleaning a Leather Couch
Cleaning a leather couch is relatively simple, but there are a few things you'll want to keep in mind to avoid damaging the material. First, always use a gentle cleaner specifically designed for leather – harsh chemicals can damage the surface and alter its appearance.  You can find a proper leather cleaner at the store.
It's also important to avoid common cleaning mistakes, such as using too much water or scrubbing excessively. Always test your cleaner on a small, hidden area of the couch first to make sure it won't discolor or harm the leather in any way.  You do not want to start cleaning your couch, just to find out that you are causing more harm than good. And finally, never submerge your leather couch in water or use a steam cleaner – this can cause irreparable damage.
With these tips in mind, you'll be able to keep your leather couch looking its best for years to come!
Maintaining Your Couch
When it comes to maintaining a leather couch, there are a few key things to keep in mind. First, it's important to clean and care for the leather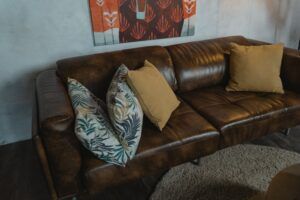 on a regular basis – this will help prevent dirt, dust, and other debris from building up over time.  Make sure you use a proper cleaner for leather rather than just using soap and water.  You definitely do not want to get the couch too wet, or it will ruin the leather.
Another essential step is protecting your couch from unnecessary damage. For example, you'll want to avoid placing sharp objects or hot items on the leather, as this can cause permanent damage. In addition, it's important to keep your couch out of direct sunlight, as this can fade the leather over time.
Another helpful tip is to vacuum the couch regularly – this will help prevent dirt, dust, and other debris from building up over time. Finally, it's a good idea to invest in a quality leather conditioner, as this will help keep the leather soft and supple.
By following these simple tips, you can help ensure that your leather couch will remain in excellent condition for years to come!
Find A Leather Couch At Ambiente Modern Furniture
Ultimately, leather is an excellent choice for a couch because it's strong, durable, and beautiful. However, it's important to keep in mind that leather does require some special care and attention. Be sure to clean and condition the leather regularly, and avoid placing sharp objects or hot items on the surface. By following these simple tips, you can help protect your leather couch from damage, and keep it looking great for many years to come!
If you are looking for the perfect leather couch for your home near Asheville or Raleigh, North Carolina, contact Ambiente Modern Furniture!  We have a wide selection of beautiful leather couches to choose from, as well as leather furniture for the rest of your home.  Take a look at our selection online or stop by one of our two locations at your earliest convenience.  If you see something online that you would like but we do not have it currently in our inventory, we can help you to purchase one and ship it to your home.  We look forward to seeing you soon!
Questions about a product, shipping, locations or other? Let us know about it.