Whether you are looking to replace your couch for re-decoration purposes or you have had your couch for a while, you may consider the question – how long will your couch last?  Like most pieces of furniture, one of the biggest factors to consider when figuring out how long your couch should last is how well the furniture has been kept.
You can find many couches in secondhand stores such as consignment shops and thrift stores, many of which are in great condition.  This goes to show that a good portion of the time, these couches are not given away due to being deemed unusable, but because someone wants to redecorate.
Here at Ambiente Furniture in North Carolina, we can give you some tips as to how long your couch will last, as well as some signs you may need to replace your current couch.
Do You Need to Replace Your Current Couch?
There are many reasons why you may need to replace your couch – some are more cosmetic, while others are more functional reasons.  The following are some of the reasons you may need to replace a couch:
It Has Gotten Noisy
Has your couch started making creaking noises when someone sits down on it?  Constant, consistent use of the couch is bound to wear it down after a while, and the squeaking you hear may be a sign of this.  These noises are the beginning stages of structural damage to the couch, so you may want to start considering purchasing a new couch – especially if these noises have been around for a little while now.
The Hardware Is No Longer Sturdy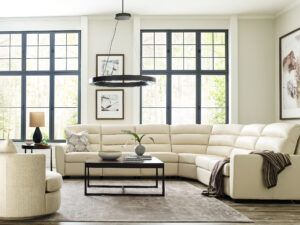 Those creaks and pops coming from your couch when you sit on it may be a sign that the hardware is losing its sturdiness, but that is not the only sign.  You may find that the frame is starting to lose some of its staples or screws, or the legs of the couch begin to wobble.  This means that the frame of the couch is beginning to deteriorate, so you will want to start thinking about options for your next couch.
Not only can the frame of the couch start to deteriorate, but the springs in your couch can also break or bend.  While a bent spring can be moved back into place with pliers, a broken spring cannot be fixed as easily.
The Cushions Fell Flat
If you suddenly sink into your couch when you didn't previously, your cushions may have started to go flat.  This can cause back pain and discomfort, which is the opposite of what you want your couch to do for you.  The filling will break down over time the more that the couch is used, and can actually come out if there is a rip in the couch somewhere.
Sometimes, if the problem is only in the actual cushions of the couch, you can add new filling to them, and they are as good as new.  But this is not the case with all couches.  However, if not, you may find that your back is lacking lumbar support when you sit down on the couch.
An Odd Odor
As time goes on, you are bound to spill something on your couch.  If you have children or pets, the likelihood of this increases.  Along with spills comes the general accumulation of dirt, stains, and other things.  Eventually, this all adds up and causes your couch to start to smell.  
Have you vacuumed or steam cleaned your couch recently? Regular upkeep may help keep the smells at bay, but this is not a foolproof method.  If your couch still gives off a foul smell even after you just cleaned it, the smell may not be going away.  At that point, purchasing a new couch may be in your best interest.
Lost its Cosmetic Appeal
With use, the upholstery on your couch will start to deteriorate – just like the rest of your couch.  You will see this occur through ripping, fading, fraying, and more.  Leather couches may crack, and velvet can wrinkle.  Regardless, these cosmetic changes may make your couch feel unsuitable for the room you have it in.
If you would like, you can place a slip cover over your couch.  Sometimes, you can also fix smaller issues that may have an unpleasant appearance, making it look good as new again.   If this is not an option, you can always look into investing in a new couch.
How Long Will A Couch Last?
Depending on how well you take care of your couch, it can last you a good amount of time.  Investing in a high quality couch will prolong the deterioration of the material, but keep in mind it still cannot last forever.  Luckily, many manufacturers today offer extended warranties on their products.  In fact, you can be covered for up to ten years!
The average couch will last you between 10 and fifteen years, if you take good care of it.
Find Your Next Couch at Ambiente Furniture
Have you been looking for a new couch near the Asheville or Raleigh, North Carolina area?  If so, stop by Ambiente Furniture!  We have two locations where you can stop by and browse through our in-store selection.  If you see something on the website that we do not have in stock in our store, we are able to help you order the piece to your home!  Stop by at your earliest convenience so we can help you find your next dream couch and make your home a little cozier.  Or, if you would like, fill out the form below and someone will be in touch with you shortly.
Questions about a product, shipping, locations or other? Let us know about it.