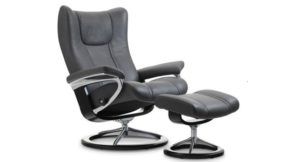 In 1971, Stressless was created as the first recliner to meet your needs for comfort and for support. It was created by Ekornes, a Norwegian furniture manufacturer who has over 80 years of design experience under its belt. The chair allowed for leaning back and rotating without getting out of the chair. Since 1971, the chair has seen several changes and additions (like the ottoman) but the concept has remained the same: comfort and elegance. In 1983 Ekornes was awarded the Norwegian Export Prize.
In 1996, Stressless was the first recliner to offer the same great product in 3 different sizes. The makers for Stressless knew a "one size fits all" approach was not what was best. Someone who is 120 pounds and is 5 feet tall needs a different size chair than someone who is 250 pounds and six-feet tall. The recliner leans back with ease to adjust to your body for reading, watching television or sleeping. It's also very easy to return back to the sitting position which makes it so easy for anyone to use. It's base allows it to stay balanced so you always have control.
There are several options when purchasing a Stressless Recliner for you to consider. You can customize it to fit you and the space that the chair will be in. View our Stressless inventory at Ambiente Modern Furniture here online or stop by our furniture galleries in Asheville or Raleigh to experience these standout pieces for yourself.
Questions about a product, shipping, locations or other? Let us know about it.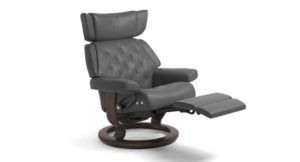 Stressless Recliner Chair Options
When shopping for a Stressless Recliner, you'll start with what style you would like. Mayfair, Wing and Sunrise are just a few of the popular styles of recliners to choose from. Once you've picked a style, you'll choose the size that's right for you.
Next, you'll choose the base for your chair. Most styles will let you customize your base (classic, star, home office) and choose the color you would like your base to have.
Next, you'll choose the material of the chair. You can choose from fabric or leather. There are 112 fabric colors and 65 colors of leather to choose from. If you choose leather, there are also several options of leather grades to choose from.
Prices will vary depending on what style and options you choose for your Stressless recliner.
Stressless Recliner Power Chairs
Many Stressless recliner styles now come with the option of having power. Even though the reclining feature is easy and seamless without power, having a chair lean back and up for you can be a huge benefit for some people. With a push of a button, the footrest can extend or the back of the seat can lean back – or both. The buttons on the chair are neatly concealed so your chair doesn't scream "Look, I move!"
The power chairs can be purchased with or without a battery. If you are going to place your chair near an outlet and it can stay plugged in, you may opt not to get the battery. If your chair is going to be in the middle of the room or you like to rearrange your room layout occasionally, the battery would be a good option for you – that way, the chair does not have to stay plugged in.
No matter what options you chose, you cannot go wrong with a Stressless chair. To figure out which chair option would be best, visit Ambiente Modern Furniture and let one of their knowledgeable sales associates help you compare all of the options that Stressless offers. You can rest easy that you're buying a comfortable chair that is not only reliable but also beautiful to look at.
Questions about a product, shipping, locations or other? Let us know about it.