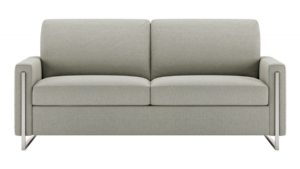 When it comes to innovative and responsible furniture, American Leather is an industry leader. American Leather creates custom luxury furniture that can bring any room together. Some of their most versatile and functional pieces are their American Leather Sleeper Sofas. They have many different styles to choose from and each design brings a unique feel to a room.
If you are in the market for an American Leather Sleeper Sofa, come visit our showroom at Ambiente Modern Furniture. We have a great selection of American Leather Sleeper Sofas on display so you can find the sofa that best fits your unique style. Find your perfect piece at our furniture galleries in Asheville and Raleigh, NC, or contact us below to speak to one of our design consultants about your space. Read on below to learn more about the selection of sleeper sofas from American Leather.
Questions about a product, shipping, locations or other? Let us know about it.
American Leather Sleeper Sofas in Raleigh and Asheville
If you are looking for a modern sleeper sofa in Raleigh or Asheville,  Ambiente Modern Furniture has a great selection. We carry a number of comfortable American Leather Sleeper Sofas in our galleries. American Leather Sleeper Sofas are known for looking and feeling great. Whether you are furnishing a new home or updating your current home, an American Leather sofa would make a great addition to any room. 
Here are some of the most popular American Leather Sleeper Sofa models that we carry here at Ambiente Modern Furniture: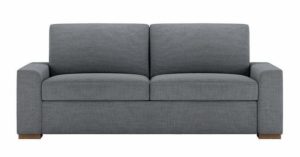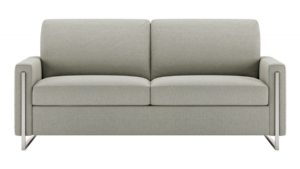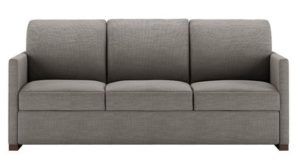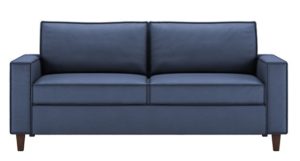 What Room to Put a Sleeper Sofa In 
Sleeper sofas are extremely functional and can help you really utilize the space in your home. A sleeper sofa allows a room to serve as both a living space and a bedroom. If you love to entertain family and friends at your home, having a sleeper sofa can be invaluable. Having a sleeper sofa allows you to provide comfortable accommodations for guests. One of the most common questions we get from clients in our showroom shopping for a sleeper sofa is "where do you put a sleeper sofa?" 
The great thing about a sleeper sofa is that you can have an extra bed in the house without turning a space into a dedicated bedroom. Most people prefer to put a sleeper sofa in a bonus room or office so that, when used, the guest can have privacy. However, having a sleeper sofa in the living room is also an option. A sleeper sofa can function in any room in the house as long as there is enough room for the bed to fold out.
Find your perfect American Leather Sleeper Sofa at Ambiente Modern Furniture. We have galleries in both Raleigh and Asheville, NC. Give us a call or fill out an online contact form if you have any questions about our American Leather Sleeper sofas. 
Questions about a product, shipping, locations or other? Let us know about it.