If you're tired of the same run-of-the-mill furniture and product options sold at most stores and ready for furniture that breeds innovation and custom design with a quick turnaround time, you have found a diamond in the rough in American Leather! Designed with the customer and quality product in mind, the founding engineers of American Leather wanted to give consumers the ability to customize any piece of furniture with a guarantee that it will be in their homes and businesses in less than 30 days. This is something that has been true since the start of American Leather Furniture in 1990, and this is what continues to set their company apart from any other. American Leather's entrepreneurial mindset challenges the norm and gives consumers what we all are looking for in life and our spaces, ingenuity. Peruse American Leather Furniture at our Ambiente Modern Furniture stores in Raleigh and Asheville and find the perfect piece for your home or office. Contact us for availability on pieces or read on below for more information about American Leather.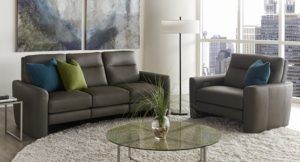 Innovation, Design, and Sustainability
These are the attributes that set American Leather apart and what they are most proud of. As a founding member of the Sustainable Furniture Council, American Leather strives to be environmentally sustainable. From harvesting sustainable wood to recycling extra scraps, their overarching goal is to waste as little as possible to better our customers and world. American Leather is confident that their furniture is made with excellence in mind and there is a piece for every individual. They offer innovative designs and products that have never been available before, that is, until American Leather came along.
The Only Living Chair Available at American Leather 
The Comfort Air by American Leather is an innovative and luxurious seating experience unlike any other on the market. Available in many styles and shapes, the Comfort Air gives you the ability to move and relax seamlessly and with ease. Whether you want to kick your feet up, recline fully, or rock, this design moves with your body and transitions unlike any other. There are various types of leathers and fabrics available to cover your chair. We believe that the covering of your chair is more than just a cover; it says something about your style and life, and it should be chosen with intention. We want your furniture to be one of a kind, and we are passionate to help you find this perfection! 
Comfort Sleepers With You In Mind
Comfort Sleeper by American Leather is a sleeper sofa that was created with consumer's comfort in mind. Gone are the days where sleeper sofas have bars and springs; those types of sleepers are uncomfortable and not good for our body's natural alignment. Comfort Sleeper is both incredibly comfortable and versatile, giving you the sleeping experience you've always wanted. With 15 styles and designs to choose from, we are confident that you will find the perfect sleeper for your home or business. Comfort Sleepers are available in both leathers and fabrics that are all sustainably sourced!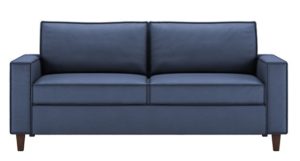 American Leather at Ambiente Modern Furniture
We are pleased to sell many products and styles of American Leather to give our customers the quality and options that they deserve. If you are looking for innovative and custom designed pieces of furniture, look no further than American Leather at Ambiente Modern Furniture! You can view all of our inventory online or call us to learn more information. If you are local to the Raleigh or Asheville area, stop by our showroom to experience this comfort in person! Call us today, we look forward to serving you!
Questions about a product, shipping, locations or other? Let us know about it.