Magniflex Superiore Deluxe
Price for Pillow Standard, $199.00. Maxi, $209.00
Available extra thick (Maxi). Made in Italy.
Superiore Deluxe Standard of the Superiore line with its traditional design combines an innovative cover in Outlast® with an inner core in breathable Memoform to guarantee a cool and dry sleep. The Superiore Deluxe Maxi is thicker and offers even more support. The Deluxe Wave is pillow shaped as a double wave that provides two different heights and great support for your neck.
A) Cover – The temperature-regulating Outlast® fabric creates a perfect microclimate all night long. When your body temperature rises while you are asleep at night, the excess heat is absorbed and when the temperature drops below the melting threshold the heat is released. The cover features a breathable 3D band, in addition it can be easily removed and washed.
B) Insulating Sleeve – Protects the inner layer by increasing the pillow's level of hygiene.
C) Interior – The interior in Memoform is designed to react to the weight of the neck, head and shoulders, offering a pleasant feeling of lightness while you rest. The wave is ideal to support your neck as it gently eases the back of the head.
D) Manufacture – The airyform design of the pillow ensures perfect breathability and optimal dispersion of moisture and heat, due to the holes in the middle of the foam core.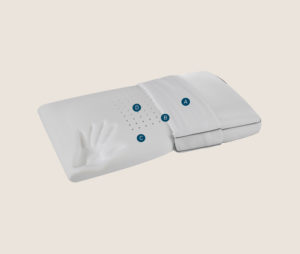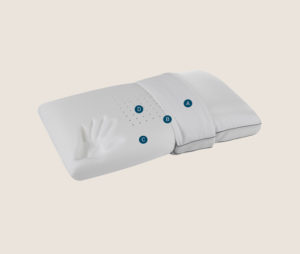 Available extra thick (Maxi). Made in Italy.