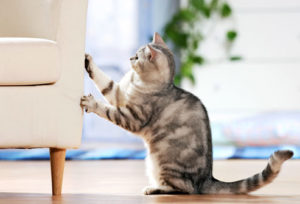 When you buy a new piece of furniture it is important to consider what kind of wear the piece will encounter. For example, if only people will be using the couch you can go with a much softer leather. However, if you have a cat, you know that you are going to need a durable sofa that is made of a strong and resilient material. The question is, what kind of leather sofa is best for cats? 
Here at Ambiente Modern Furniture, we have a variety of couches available that offer extremely durable finishes that will limit the amount of damage your cat can cause. We will be happy to show you which couches are best for a cat friendly home.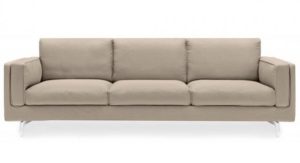 Best Sofa Material For Cats
Keeping your dog off of the couch is a much more manageable task than keeping cats off of the couch. Especially when you are out of the house. Cats seem to find their way onto pretty much anything in your home. Whether that be the counter, the kitchen table, or your brand new leather couch, cats always seem to find their way to a spot where they are not supposed to be. Many cats seem to have an attraction to couches. They love to scratch the plush surfaces of a nice living room couch. If you have a leather couch you have likely come across scratches around the sides of the couch where your cat may have gotten itself into a little bit of mischief. 
Many pet owners have had trouble with their cat scratching their leather couch. We often get questions from cat owners asking "which couch material is best for cats?" 
You can find couches today in a variety of different materials. You can find couches upholstered in leather, fabric, and even microfiber. When it comes to buying a couch that will be the most resistant to the sharp claws of your beloved cat, you need a material that is puncture resistant and scratch proof. The best material to accomplish this has traditionally been microfiber. Microfiber couches are able to stand up to years of cat claw abuse. While you can also find leather couches that have scratch proof finishes that limit the amount of damage done by a cat's claws, there can still be visible damage done to the couch over time. 
Leather Sofas That Cats Can't Scratch
If you want a tough couch that a cat won't be able to scratch, but don't want to go with a microfiber material, leather is your next next option. The question is "what kind of leather is the best for cats?" There are countless different types of leather used on couches today. Some are much tougher than others. Some of the toughest and most durable leather in the industry is used by American leather on their sofas. American Leather offers a material option called Elmo Soft leather and Capri Leather. These leathers provide industrial strength and will stand up to just about anything you throw at them. 
Come visit an Ambiente showroom today to see just how tough these leather couches are! You can find Ambiente Modern Furniture showrooms in both Raleigh and Asheville NC. 
Questions about a product, shipping, locations or other? Let us know about it.