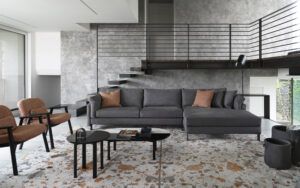 Gray is a color that seems to match with anything.  It's a versatile neutral that has cool undertones to it, while also bringing a modern look to the room.  When it comes to decorating, though, our minds can go blank as soon as we try to think of colors to go with gray.  You don't want something that will overpower the gray while still showing off your style.  
Luckily, here at Ambiente Furniture in North Carolina, we have the experience and expertise to help you find the perfect rug to match your gray couch.  The possibilities are endless with this color, and we are excited to see what you choose.  Keep reading to see some of the color options that work best with a gray couch.
White / Off-White

White is known for opening up a room.  If you have a gray couch in a smaller space, this may be a great choice for you.  While gray brings the modern and contemporary look to the room, a white rug will add a touch of elegance to it.  It also allows for a minimalist theme in the room, unless paired with more extravagant decorations.
If pure white is not something you are interested in, then there is also the option for an off-white rug.  This provides a softer contrast between the rug and the couch than you would find with a pure white rug.  Off-white rugs are still able to open up your space like a pure white rug so they are also great for a smaller space.
Gray on Gray
If you include a gray rug with your gray couch, you can create a monochromatic theme for your space.  This will bring a seamless transition from the couch to the rug.  Also, since we have already determined that the gray couch will match with almost anything, this means that your gray rug will do the same.  You do not have to worry about the gray on gray being overwhelming; in fact, it will provide a beautiful atmosphere for your space.
You can choose to keep up with the neutral theme in the rest of your decor, or, you can elect to include bright colors for your accents.  This will make the colors pop even more against the monochromatic theme.
Yellow
Yellow rugs match well with any shade of gray.  There are many shades of yellow available as well.  For instance, you can opt for a brighter, sunnier yellow, or a more subdued mustard tone.  Whatever you decide on, you will be able to create a bright atmosphere for your space that was not present before.  It also provides a bit of texture as well.
The yellow accents bring a down-to-earth tone for your space, no matter the tone.  Not only that, but you will also find elegance in the yellow, by bringing a more upscale look.
Red
If you are looking for an extra bold look for your space, consider looking into a red rug.  Red pairs wonderfully with gray.  A deep red color will bring a hint of mystery to your space, while a bright red will allow for an even bolder atmosphere.  The deep red will look absolutely stunning with a darker gray couch to keep that mysterious atmosphere going, while light gray and bright red may be a better pairing.
If the red color is part of a pattern in your rug, you may find that it gives off a more antique feeling to the room.  No matter if it is patterned or a solid red color, the room will surely feel a bit more sophisticated with the addition of this rug.
Jewel Tones (pink, orange, light blue, green)
You are likely to find jewel tones in a floral print area rug.  These tones have a bright, playful atmosphere to them.  But what are these colors, exactly?  Jewel tone colors include things such as red, blue, green, yellow, and purple.
 If you have a lighter gray couch in your home, a jewel-toned rug will work great.  However, if you have a darker gray tone, you may want to be careful to not create an overly dark space.  Although you will find that jewel tones are bright, they typically are darker in nature.  So, if you are not careful, you may create a space that feels overly dark.
Since you usually find these tones in a floral print, this type of rug will bring a more feminine aspect to the room.  If that is the kind of atmosphere you are looking for, jewel tones might be the perfect choice for you.
Blue
Navy blue – or, really, any shade of blue – works great with gray furniture.  This is because it matches the cool tones of the gray with its own coolness.  The navy option, similar to deep reds, has a more sophisticated look to it.  If deep red is too bold of an option or you aren't looking for a warmer toned rug, navy is a great alternative.  Gold accents look particularly beautiful against the blue and gray pairing.
Choosing a brighter blue can open up the space more than the navy option will.  Its bright coloring will have a more playful feel to it.  Regardless, whatever blue you choose, you cannot go wrong with this color rug.
Work with Patterns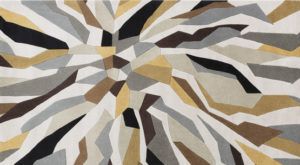 As we have said before, gray has a more minimalistic look to it.  When you choose a rug that is one solid color, you can continue with the minimalist look.  On the other hand, if you are looking to bring a busier feel to the space, you can work with patterns in your rug.  If you can think of a pattern, you most likely will find it.  Here at Ambiente Furniture, we have many patterned rugs to choose from, in a multitude of color options.
Another perk to having a pattern in your rug is that it will likely allow you to incorporate multiple colors into your space – which gives you more options as you continue to decorate!  If you want to bring a fun, lively look to your home, consider a patterned rug.
Contact Ambiente Furniture Today
Are you searching for a gray couch or a matching rug in the North Carolina area?  Visit us here at Ambiente Furniture!  We have two locations – one in Asheville, and the other in Raleigh.  When you work with us at Ambiente, you are sure to find the perfect addition to your home.  Our expert staff can even assist you if you are having trouble deciding what will look best in your space.
Stop by one of our locations to see what we have available, or take a look around our website and see what you like.  If you see something that you like but we don't have it ready in our store, don't panic.  We are able to help you order it!
If you would like, feel free to fill out the contact form, and someone will be in touch with you shortly to help you out.  We look forward to hearing from you!
Questions about a product, shipping, locations or other? Let us know about it.