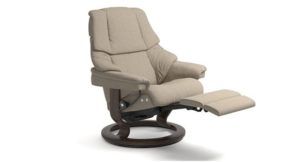 Investing in quality furniture is a big decision, and with such an investment, you should know what warranties are included in your purchase. A common question we get is not just what warranties come with the piece of furniture, but also for the motor included in some sofas and other pieces. One of the manufacturers we carry that has a warranty on internal pieces like motors is Stressless. Stressless strives to provide their customers with top of the line products, built on innovation and comfort, and with precise attention to detail throughout the entire process. All warranties originate the day a Stressless product is purchased, so you can have peace of mind from the day you take your new piece home.
Continue reading for detailed information about the warranties Stressless offers with the purchase of motorized furniture.
10 Year Warranty on Internal Mechanism
Stressless offers a 10 year warranty on the internal motorized mechanism from the date you purchase your product. Whether it be a motorized recliner or sofa, we've got you covered. This warranty covers the Plus-System and the internal metal frame, metal springs, and gliding system. This specific warranty does not cover damage to fabrics, leather, or wood pieces. Always be sure to report and have professionals work on your Stressless product to ensure the warranty will remain valid. Anyone who works on your Stressless product who is not authorized by the Stressless manufacturer will be putting this warranty in jeopardy. Damages to your product due to a non approved repair will not be covered under this warranty.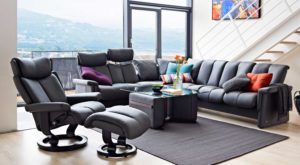 5 Year Warranty on Furniture Base
Stressless guarantees a 5 year warranty on the furniture base for a chair or ottoman. This includes the swivel rig, gas lift, extensions, foam and interior padding of all furniture pieces. The electrical components and motor for LegComfort chairs are included in this warranty, along with all accessories. Regular wear and tear will not be included in this 5 year warranty. If the motor of your Stressless piece malfunctions or you are unsure it is performing correctly, give Stressless a call as soon as possible! Your opinion matters, and they want you to be fully satisfied with your Stressless purchase. 
2 Year Warranty on LegComfort Battery
Stressless assures you the quality of the LegComfort batteries by offering you a 2 year warranty. If the battery of your piece of furniture does not work, please call Stressless to find an authorized repairman, and your battery will be replaced free of charge in the first 2 years of purchase.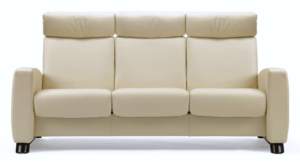 1 Year Warranty on Leathers and Fabrics 
Stressless offers a 1 year warranty on all leather and upholstered fabrics, giving you more peace of mind with your new purchase. This warranty covers all zippers, zipper mechanisms, and stitching. Regular wear is normal and is not covered under this warranty. Please be sure you are caring for your fabric and leather according to Ekornes recommendations, which can be found on the Stressless website. Failure to care for your product according to these guidelines could affect your warranty. 
Stressless at Ambiente Modern Furniture
If you are in the market to purchase a quality piece of furniture for your home or business, it's time for Stressless. We are proud to offer Stressless products at Ambiente Modern Furniture, continuing to give you the best options in the furniture world. We have showrooms in Raleigh and Asheville, and our inventory is readily available on our website. Give us a call to speak with a friendly and knowledgeable team member about our pieces. We would love to help you transform your home or business. 
Questions about a product, shipping, locations or other? Let us know about it.