Purchasing a new piece of modern furniture can be an overwhelming experience, especially when you do not know the difference between all of the different leather grade options. Sometimes high-end leather is more appealing and a better investment for furniture pieces you expect to keep for a long time. On the other hand, you might want to buy an excellent but cheaper leather alternative for a dorm room or nursery furniture. 
At Ambiente Modern Furniture, we pride ourselves on offering a wide range of leather options. Our team of furniture experts will help you choose the perfect piece of leather furniture for your space. Below you will find a quick rundown of the different grades of leather that you will commonly encounter when you shop here at Ambiente modern furniture. 
Full-Grain Leather Modern Furniture
Full-grain is the highest quality of leather and is used on the most luxurious and high quality pieces of furniture. Unlike processed leather, it shows the natural state of the piece by leaving imperfections. This leather often comes in striped patterns because it has not been buffed or sanded. It is incredibly durable because it encompasses both the top and bottom layers of leather, making it thicker and stiffer than most cheaper alternatives. Full-grain leather is recommended for couches or other furniture pieces that you expect to enjoy for an extended period of time. 
Top-Grain Leather Modern Furniture
Top-grain leather is similar to full-grain, except it consists only of the top layer of leather. This grade is considered high-quality, but it is much thinner than full-grain. Top-grain is also used for expensive leather shoes and designer purses. When used on furniture, it is smoothed and treated as a singular color. Although this type of leather is weaker than full-grain, it is still considered very durable and the second-highest quality. Top-grain leather is excellent for chairs and couches and will last longer than fabric alternatives.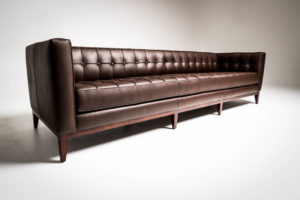 Other Leather Grades
Suede, bond and genuine leather make up other leather alternatives. None of these are as durable or high-end as top and full-grain leathers. Suede leather has a softer touch due to the top grain being removed during a stripping process. Bond is considered the cheapest form of leather due to it not being real leather. It is made by gathering pieces of different leather and chemically bonded together through synthetic materials. Many people choose to buy bond leather furniture due to its cheaper pricing; however, it does not last as long. Genuine leather is made with real leather, except it is stained and dyed and compressed together with a chemical-like glue. This leather is not high quality and is used for low-end handbags and shoes. 
Ambiente Modern Furniture offers furniture that is constructed using the highest quality leather grades. Don't settle for cheap, low-grade leather furniture. Not only will low-grade leather furniture not provide a quality seating experience, it also will not last nearly as long as higher end leather. It is never too late to invest in quality leather furniture. At Ambiente, we also provide a wide-range of non-leather furniture. Our online catalog showcases some of our most desirable pieces that will transform your living space into a modern, aesthetically pleasing home. Give us a call or stop by our stores located in Raleigh and Asheville for your furniture needs. 
If you have any questions about leather furniture available here at Ambiente Modern Furniture, give us a call or fill out the online contact form below. One of our friendly design consultants will be more than happy to assist you. 
Questions about a product, shipping, locations or other? Let us know about it.