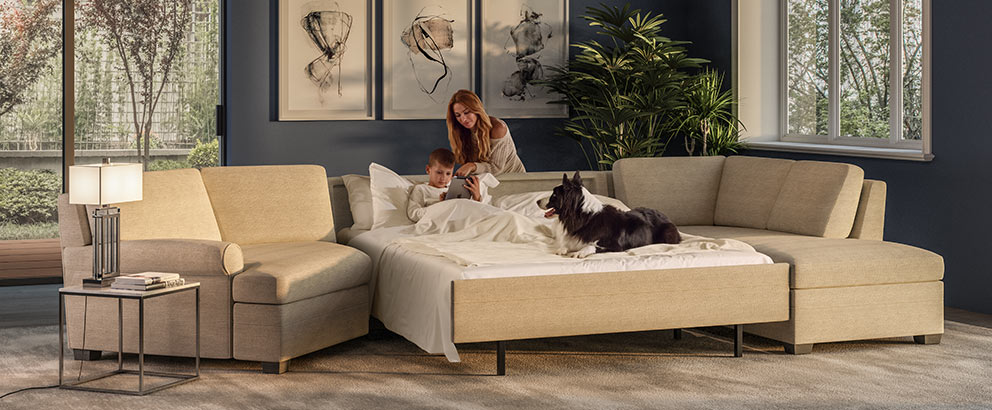 Are you in the market for a furniture piece that is as functional as it is beautiful? Do you find yourself needing additional places to sleep on occasion but do not want to sacrifice a room in your house for a guest room? If you answered yes to either of these questions, you should consider adding a sleeper sofa to your living room. Gone are the days when sleeper sofas are huge and clunky, taking up the entire living room and not offering much visual appeal. At Ambiente Modern Furniture, we are proud to offer signature sleeper sofas that breed both functionality and sleek design. 
You can view our entire inventory online to get a better idea of different modern sleeper sofa designs found here at Ambiente Modern Furniture. We also encourage you to come and browse our selection of contemporary sleeper sofas in person. Visit our locations in either Raleigh or Asheville and experience why Ambiente is North Carolina's most popular modern furniture gallery.
Continue reading below for two sleeper sofa options available to you that can transform your home or business, increasing its functionality and enhancing it's modern aesthetic. 
American Leather Pearson Sleeper Sofa
If you are worried that a sleeper sofa will detract from your living room's modern aesthetic, Ambiente offers a great selection of sleeper sofas that will seamlessly blend into your living room. The American Leather Pearson is an example of the modern sleeper sofas available at Ambiente. This one of a kind sleeper sofa is truly the best of the best. It features designer details with an effortless look, giving you the freedom to make it stand out or be a signature staple in your space. Pearson is available in seven bed sizes and is built with the Patented Tiffany 24/7™ Sleep System No Bars, No Springs, and No Compromise™ promise. Designed with the ability to be broken apart, this sleeper sofa gives you the flexibility to move it from room to room with ease. As if it could get any better, Pearson can act as a sleeper sofa alongside a small chaise! If luxury and style are what you are after, the American Leather Pearson may be a great option for you.
American Leather Bryson Sleeper Sofa
The American Leather Bryson offers a slightly different sleeper sofa design while still offering a modern look that will seamlessly blend into your living space. This minimally designed sleeper sofa screams no frills and all functionality paired with premium style. Bryson's track arms and pedestal legs give the feel of airiness, and your guests will never be able to tell that this sofa acts as a sleeper as well. All of our sleeper sofas come equipped with a lifetime warranty on the frame and 10 year warranty on the mechanism. 
Can you put a sleeper sofa in a living room?
Many customers are hesitant to put a sleeper sofa in their living room. They fear that the sleeper sofa will have a negative impact on the design of their living space. Luckily, modern sleeper sofas offer a sleeper sofa that does not look or feel like a traditional sleeper. They are designed to be as comfortable as a traditional couch while offering a sleeping space that is as comfortable as a traditional bed. When you buy a sleeper sofa from Ambiente, we want you to be confident in your decision and know that it was built to last! Come experience the selection of modern sleeper sofas at Ambiente today. If you have any questions feel free to give us a call or fill out the online contact form below. One of our friendly design consultants will be delighted to assist you. 
Questions about a product, shipping, locations or other? Let us know about it.