When you buy a new house or renovate it, the first thought that clicks in your mind is, what about the furniture? Yes, furniture is the biggest element that makes your living room alive and beautiful. So maintaining or setting furniture in the right way is very important.
Before buying the furniture, make a picture in your head or consult your interior designer about what kind of furniture will suit your living room, what material it should be, the color of the furniture, and most importantly, what size of furniture will go with your living room.  Here at Ambiente Modern Furniture, we are happy to help you pick out the perfect furniture for your living room.
Sometimes people wonder if the furniture in their living room should all be the same height. Do you feel the same way? Don't worry; this article has an answer to your problem. Let's go!
Can you Have Sofas of Different Heights in your Living Room?
A sofa can be one of your most expensive furniture purchases, both monetarily and in terms of the impact it has on your space. Nothing could be more frustrating than falling in love with one in the store and making the investment to bring it home, only to discover it doesn't fit in your home. Although sometimes it may look that searching for the right size sofa is easy, there's more to it than making sure it fits through the front door.
Are you aware that there are standard sofa measurements? It may seem surprising, but it is true. Of course, there may be small differences between different pieces of furniture, but most sofas available for purchase have the same basic sizes. You can make a temporary design of your room based on these measurements once you know what they are.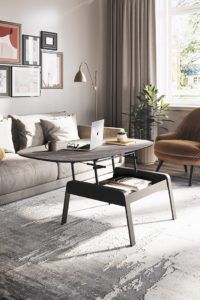 Should Living Room Chairs be the Same Height as the Sofa?
It can be difficult to match furniture. Colors, styles, fabrics, and scale must all be considered, which can be perplexing and intimidating. This may explain why, when it comes to choosing the perfect sofa and chair combo, so many people quickly choose one of the pre-made sets available at so many large box stores. And, while those are convenient and get the job done, there are roughly as many sofas and chairs as there are people, which means there are endless possibilities of how to furnish your living room. It only takes a little effort. There is no rule that your sofa and living room chair height need to be the same.
Does Furniture that isn't the Same Height Look Bad?
When it comes to decorating, design balance should be considered right from the start. A space that is out of balance might make its occupants feel uneasy and worried.
In fact, emotional harmony in a room is just as important as beautiful design. A well-balanced design exudes feelings of security and well-being. Balance, more specifically, is a design element that creates a sense of well-being in a space. Nothing is strange, unbalanced, or unsteady.  In a room, this is also known as feng shui.
A room may lack intrigue if all of the furniture or decor is the same height. Place taller pieces adjacent to short pieces when arranging your furniture in your space. Add a tall item of furniture, such as an armoire or bookshelf, if your sofa has a low back. With modest decor, the same rule applies. Use a 3:1 ratio when decorating with small items. For example, three vases of varying heights grouped together and matched by a single bigger decor piece on the different sides of the chimney or bookshelf create an eye-catching design.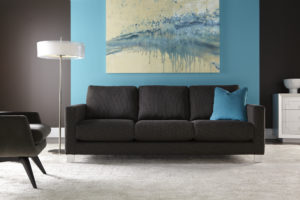 What Is A Good Height For A Sofa?

Sofas can range in weight from 70 to 200 pounds. Common three seated person sofas are often between 70″ and 87″ deep, with 84″ the most common length. Pick a long sofa with a length of 87″ to 100″ or an additional amount sofa with a length of over 100″ if you want plenty of seating in terms of length.

The height of the sofa also depends upon the size of your living room. You can measure the space for your sofa in your living room in the following ways:
1) Calculate the Size of Your Area
Notice the length and width of your room to get a sense of the sofa sizes that will fit in your space. If your room is vast and has high ceilings, larger couches with higher backs are an excellent choice; the open space will complement the sofa and make it appear poised and grand. If you have limited space or small rooms, consider buying a shorter sofa or a smaller loveseat that won't overpower the area.
2) Cover the area with tape.
Make a decision on where you want your new sofa to go. To maintain the natural flow of traffic through the space, allow 30″ of walkable room in front of the sofa. If you're going to put your sofa next to a coffee table, leave at least 12″ – 18″ between the two furniture items.
Make a preliminary square on the floor in which you'd like to put your sofa using masking tape.  Precision isn't required here as long as you're aware of overall sofa measurements — you're seeking to produce a rough framework, not a flawless drawing of a sofa.
3) Calculate the Tape Area
Measure the size and shape of the rectangular you've made once your tapes are in place and you're satisfied with the dimensions.
Use these measures as the utmost sofa proportions that will fit your space while shopping for a sofa. Look for sofas that are either close to those measurements or somewhat smaller.  Ambiente Modern Furniture has a variety of sofas that may be perfect for your home – take a look at our inventory today. When selecting the height of your sofa, keep in mind that it must fit under any neighboring window ledges or bookshelves.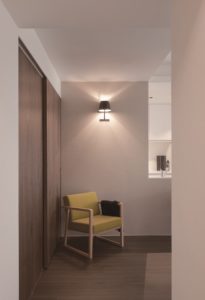 What Is A Good Height For A Chair?

 In our houses, chairs are among the essential pieces of furniture.

However, while shopping for a new chair, seat height is one of the most significant features to consider. Excessively low seating puts too much pressure on your pelvis rather than evenly spreading it across your thighs. Furthermore, the seat height determines the ease with which you can get in and out of a chair.

Because lounge chairs and sofas are designed to be comfortable, the ideal seat height is somewhat subjective. Although seats as low as 15 inches and as high as 20 inches are available, the most frequent dimensions are 17-18 inches.

There are two elements to remember when it comes to the height adjustment of sofas and lounge chairs. Are you able to keep good posture while sitting so that your back won't hurt?  Is it easy to get up from the chair?
Ambiente Modern Furniture Experts Can Help
Selecting furniture for your living room is not at all a cakewalk. You have to make a lot of effort to choose the correct size, height, color, and furniture that matches your living room. Ambiente Modern Furniture has years of experience when it comes to selecting the perfect furniture for your home.  We would be happy to answer all of your furniture height questions, whether it has to do with the height of the furniture or something entirely different.  Fill out the contact form below and someone will be in touch with you shortly!
Questions about a product, shipping, locations or other? Let us know about it.