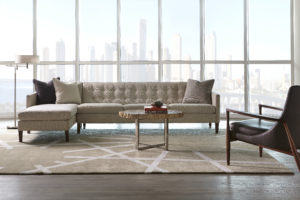 Owning a white leather couch may seem like a bold move, but it is one that can be done with ease if you know the right tips to keep it in good condition. If you are in the market for premium leather furniture that is handcrafted with exquisite attention to detail and design, look no further than Ambiente Modern Furniture. Our state-of-the-art furniture is made to last and could transform the look of your home or business instantly. Call our friendly and knowledgeable team in Raleigh at 919-572-2870 or Asheville at 828-412-5505 to learn more about the furniture we have available! Whether you are looking for a living room, bedroom, or office furniture piece, Ambiente Modern Furniture has you covered.
How to clean a white leather couch
If you are new to owning a white leather couch or are hoping to purchase one, then these quick and simple tips on how to clean a white leather couch are sure to be a good resource to you. There are a few methods you can take when cleaning your white leather couch that include:
Use a dry cloth on any spills immediately after the spill occurs– this will ensure that the spill is not being pressed into the leather and is being wiped away.

If a stain has set, sprinkle baking soda on the spot and let sit for a few hours; wipe baking soda away.

Use a natural cleaning solution of equal parts water and vinegar 
While these methods above are effective, quality leather cleaner sold at a furniture store is our top recommendation when cleaning a white leather couch. At Ambiente Modern Furniture, we sell Stressless Leather Care Kits that will help prolong the life of your white leather couch! 
Shop leather couches at Ambiente Modern Furniture
Are you ready to get a new leather couch from a highly recommended company? Shop Ambiente. When you visit our showroom in either Raleigh or Asheville, we can guarantee that you will leave satisfied. We offer many various seating options that our sales specialists would be happy to discuss with you and help determine what fits your needs best. Call us today! Whether you want sleek lines or a more bold leather couch, we have what you are looking for at Ambiente Modern Furniture. 
Questions about a product, shipping, locations or other? Let us know about it.