Incorporate a touch of drama and extra seating space into your house. A well-placed accent chair can inject individuality — as well as functionality — into a space. You may create an instantly fashionable living room by placing a colorful, comfortable chair near a window and adding a light and side table. The Calligaris Coco is a great illustration of this.
Accent chairs can be the perfect answer for making a style statement, creating a conversation place, or adding a calm reading corner to your house. They let you show your individual flair while also adding beauty to any space. Accent chairs are adaptable enough to be utilized in your living room, bedroom, office, or other sitting or living rooms, and they may provide new elements of color, texture, and shape. Are you planning to buy an accent chair or are confused about how tall an accent chair should be? Then this article is for you. So let's dive in!
Is There A Standard Height To Accent Chairs?
When buying furniture, scale is one of the most crucial factors to be considered. The size of the chair in any area should be proportional to the area so that the room does not shrink it, or vice versa. Make sure the seat's height is proportional to the rest of the furniture in the room. Avoid seats that are too close to the floor for tall guests, or chairs that are too high up for shorter guests.
Run a measuring tape down existing decor, taking note of the height of the seat and seatback to preserve a consistent look at home. When choosing the size of an accent chair, use the measurements you had taken as a rough guide.
Assess the width of your new accent chairs and where they should be placed to allow for extra breathing room: 18 inches between a chair and a side table is a comfortable height, whereas a 2-foot gap or greater allows one to stroll around a chair. This will  be easy for you to move around the room while maintaining it seeming spacious rather than congested.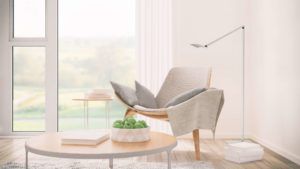 Are Accent Chairs Supposed To Be Smaller Than Other Furniture Pieces?
This is a significant one, yet it's easy to overlook! You've chosen what you believe is the right chair for your space, but even before you buy it, double-check the measurements to make sure it will fit nicely in the area you have for it, with enough room for a passage around it if necessary and any other accents you want nearby (like a side table or ottoman). It's frustrating to discover that a piece isn't the proper size for your area, but it's better to know before you buy so you don't end up in a crowded area that makes it look smaller than it is. Your accent chair doesn't need to be smaller than the other pieces of furniture as it totally depends upon the space in your room where you are placing the accent chair.
What Is A Comfortable Chair Height?
When it comes to simple chair features, you should search for ones that provide comfort, support, and adaptability. At the very least, look for a chair that can be adjusted in height and back. Those elements should also be easily accessible while seated in the chair. Please remember that the more modification options a chair provides, the more people will comfortably sit in it.
Make sure you look at the height modification range. You should be able to sit comfortably on the chair with your feet flat on the floor and your thighs supported and parallel to the floor. Discomfort, inflammation, and pain can result from sitting too high or too low.
Should An Accent Chair Be The Same Height As The Sofa?
Your living space should be a fashion statement that reflects your personal taste. Finding the perfect pair that looks amazing all together, gives your room flair, and makes a comfortable resting place might be a bit tough when it comes to picking a sofa and accent chairs.
One important point that many individuals overlook when they begin shopping. Your sofa and chairs' seat heights must be within 4′′ of each other, if not less. For instance, if your chair's seat height is 17 inches, your sofa's seat height should be as near to that as feasible (preferably no lesser than 14 inches and no larger than 20 inches). When you're all seated there, this will prevent you and your visitors from being at awkwardly different heights.
Will An Accent Chair Look Bad If It Is The Wrong Height?
Adding a charm to your home with an accent chair is a terrific method. Accent chairs can turn a drab space into a welcoming gathering spot. Your personal style requirements only determine your accent chair options.
Putting the pieces of a room together is a critical part of interior design. Your new accent chairs should serve to make the room look more appealing rather than congested. Take some assessments of the space if you're attempting to figure out if there's even have enough room for the accent chairs.
An accent chair can be the ideal way to take advantage of the great seating spots in the space. Place a chair next to a window to take advantage of its natural light in your room. Another alternative is to add an additional end table to create a relaxing and reading area. For a more stylish look, many accent chairs go well with an ottoman.
If you're unsure where to put the accent chair, remember that it looks best when it's positioned on one side of the room. Furthermore, choose an accent chair that echoes the area's features based on design style or various colors.
Accent chairs that can be used in many rooms of your home are always an excellent idea. This will allow you to move the chairs to another area if you require them or if you've grown tired of your current room layout and want something new.
Ambiente Modern Furniture Has Your Perfect Accent Chair!
Setting your furniture in the right way is very important and especially the accent chairs. These chairs can make your room look amazing if placed correctly and if not, then it might make your room look a bit cluttered or messy. So choose your accent chair wisely and place it correctly by following the points mentioned in the above article.
Ambiente Modern Furniture offers a variety of accent chairs that will fit the style of any home.  Our furniture is available in various colors, fabrics, and sizes; take a look at our inventory today to find your perfect accent chair!  If you would prefer to come in to see what we have in stock, we have two stores that are both open in North Carolina – one in Raleigh, and one in Asheville.  We would love to see you there.
Questions about a product, shipping, locations or other? Let us know about it.