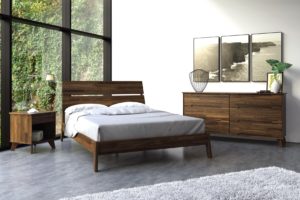 When you are shopping for pieces of furniture and other accessories for your home, it is important to know the timeframe in which the pieces will need to be replaced. This key piece of information will help determine how much you should spend on these items and when you should plan on finding a replacement. As furnishing specialists at Ambiente Modern Furniture, we are often asked "how long should my mattress last?", and this question can be picked apart and answered in a number of different ways. 
Here is the simple answer.  A quality mattress should last anywhere from seven to ten years. This timeframe assumes that you are maintaining your mattress and doing a few things that are necessary to ensure that the life of your mattress is maximized. In this resource we will share some ways that you can make your favorite mattress last longer.
How to make a mattress last longer
There are a few things you should be doing to get the most out of your mattress. Both preventive and routine care of your mattress will extend the life significantly and help you get the most out of your mattress. Here are a few of the things that you can do to make your mattress last longer.
Using appropriate mattress protection/ covers

Cleaning linens regularly to prevent buildup

Ensuring that your mattress is properly supported

Rotating your mattress every six months

Following specific care plans as indicated by the mattress manufacturer
If you want to get the most out of your mattress, taking care of it is the most important thing that you can do. Neglecting to take proper care of your mattress will shorten the life of the mattress and cause unnecessary wear. While every mattress will require replacement at some point, you can prolong its lifespan by taking the necessary precautions. If you suspect that your mattress is nearing the end of its life, here are some things that can confirm
How to tell when your mattress needs to be replaced
There are a variety of signs that will indicate that it is time to replace your current mattress. Some signs may be related to the shape of the mattress while others may be related to sounds that the mattress makes. Here are some things to keep an eye on that may indicate that you need to replace your mattress.
A noticeable sag in the mattress surface that is not correctable with mattress rotation

An increase in allergies or sensitivities

Louder than usual sounds from the mattress, such as springs loosening or shifting

A consistently bad night sleep

The mattress is more than ten years old
If anything listed above applies to your mattress, it may be time to start seeking a replacement. Your sleep is important, and getting a good night's sleep on a quality mattress could impact your health and overall well being significantly. If you think it may be time to get a mattress, consider pairing your new mattress with a new modern bed.
Shop modern beds at Ambiente Modern Furniture today!
When you visit an Ambiente Modern Furniture gallery you will enjoy a huge selection of modern beds and modern bed frames that will transform your bedroom. If you have a modern aesthetic in your bedroom or would like to transition to a modern or contemporary bedroom aesthetic come visit Ambiente Modern Furniture today. Our design consultants will be more than happy to help you find a modern bed to pair with a new mattress. Whether you are looking for a modern queen size bed or modern king size bed, you will have a variety of options available to you at Ambiente.  If you have any questions about modern beds available at Ambiente fill out the online contact form below. One of our friendly design consultants will be more than happy to assist you. 
Questions about a product, shipping, locations or other? Let us know about it.