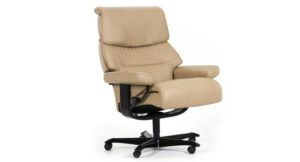 A comfortable office chair is important if you want to be efficient while working. If you are looking for an office chair that provides luxurious features and out of this world comfort, consider a Stressless Office Chair. The Stressless brand has become synonymous with comfort and superb design. When you buy a piece of Stressless furniture, you can count on it being designed to provide you with the most comfortable experience possible. Come check out our collection of Stressless office chairs at Ambiente Modern Furniture and find the perfect model for your workspace. 
Ambiente Modern Furniture is a certified Stressless dealer that specializes in providing customers with luxurious contemporary furniture. Whether you are on the hunt for a new couch or a comfortable new Stressless office chair, you will find a huge selection of modern furniture at Ambiente. Come visit our showroom to browse our collection of Stressless office chairs. We have galleries located in both Raleigh and Asheville. We look forward to helping you discover your dream office chair!
Continue reading below to learn more about our selection of Ekornes Stressless office chairs!
Questions about a product, shipping, locations or other? Let us know about it.
Ekornes Stressless Office Chairs For Sale in Raleigh, NC
If your office is in need of more comfortable seating, Stressless office chairs are a must experience. Stressless designs and creates amazing office furniture that is not only comfortable, but also looks amazing. At Ambiente Modern Furniture you will find a great selection of different Stressless office chair designs. We encourage you to come visit our showroom and experience the different stressless office chair models for yourself. 
Here are just a few of the amazing Stressless office chairs that you will find in an Ambiente Modern Furniture showroom: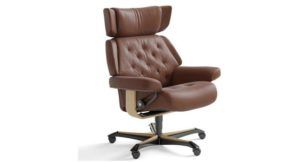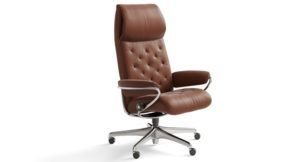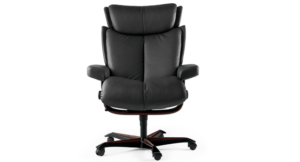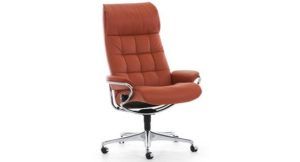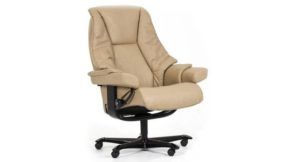 Most Comfortable Office Chair Brand
When purchasing a new office chair one of the biggest things you look for is comfort. Most people look for the most comfortable office chair they can find. There are a lot of different office furniture brands out there. Sometimes it can be hard to decide which brand you can trust to provide a quality product. When it comes to comfort, Stressless is one of the most sought after brands on the market. 
Every piece of Stressless furniture is packed with luxurious features that truly set the brand apart from the competition. If comfort is important to you, Stressless is a great brand to choose for your office chair. Over the years Stressless has established itself as one of the most comfortable office chair brands on the market.
 If you want to experience true comfort, come have a seat in a Stressless office chair at Ambiente Modern Furniture. Fill out an online form or give us a call to talk to a design consultant about how you can make a Stressless Office Chair work in your office. 
Questions about a product, shipping, locations or other? Let us know about it.