Rug placement is crucial for a successful living room arrangement. Because an area rug provides some underlying basis for arranging your furniture, however, the look and feel – as well as the flow – of your living room can be determined by how your furniture is placed on (or off) a rug.
A decent area rug should serve as more than just decoration in your living room; it should also serve as a focal point. Putting a rug in the appropriate position may significantly impact your area's overall look and feel. If you have plans of decorating a living room with a rug, then you have come to the right place. Keep reading! The following article will tell you everything about the rug and how it goes with your living room.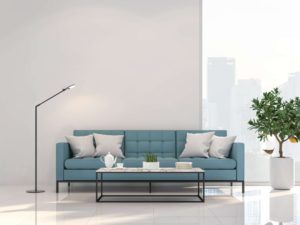 Pros and Cons of Having a Rug in Living Room
Pros 
Let's take a quick look at some of the other advantages that a large living room rug can bring.
One of the best features of rugs is that they keep you warm. This is especially useful in colder areas, as it helps to insulate you from the cold and keep you cozy.
Rugs are really warm, pleasant, and soft to walk on. Stepping on them barefoot offers your feet a pleasant sensation and helps maintain a peaceful atmosphere in the house.
Compared to other kinds of flooring, rugs are incredibly cost-effective, and proper rug cleaning extends the life of these rugs greatly.
Having a large living room rug increases the safety of children or elderly individuals. This is due to the gentleness of the surface, which works as a buffer between the hard surface, lessening the effects of the fall and preventing any injuries or mishaps. This is usually the case with other types of hard floors.  Architecture Art Design also discusses the benefits of having a carpet in a room, which includes your living room.
Cons
The actual reason why people are hesitant to utilize flooring rugs in their homes is that they are concerned about the cost of upkeep. One's lifestyle determines most maintenance, and flooring rugs, such as carpets, frequently demand high levels of care, such as thorough cleaning and daily vacuuming.
Most carpeting rugs are susceptible to dirt and grime, which has prevented many people from using them to cover their floors. When compared to other carpet choices, rugs are the most prone to stains and harm.
Compared to other floor coverings such as hardwoods or tiles, which can persist for countless generations, most flooring carpets are created artificially and have a brief life period.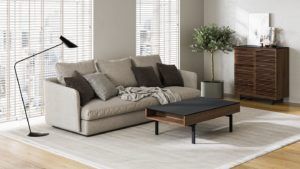 Where Should You Put A Rug In The Living Room?
It's also crucial to plan out the location of your living room furnishings before purchasing an area rug. Every space is unique (and it's OK to break the rules!). However, the following are the most common living room agreements in place:
1) All four legs of the furniture are on the rug.
If you have a great room, try putting all of your larger pieces on your area rug, such as the couch, side table, armchairs, and side tables. Between both the border of your furnishings and the border of your rug, leave at least eight inches of room.
2) Front legs of the furniture on the rug.
Keep only the front legs of your sofa and chairs on the area rug if you want to optimize the walking space between your furniture items. This set-up can also make a modest living space appear much larger.
3) Make your furniture "float."
Although this is undoubtedly a design rule violation, it's acceptable to break decoration guidelines sometimes. If you have a smaller rug that you adore, use it solely under your coffee table. Just keep the distance between both the border of your sofa and the margin of your rug under five inches.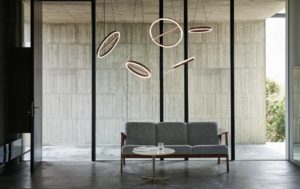 Does a Living Room Look Okay Without a Rug?
A rug can center a large room, create tiny rooms within a bigger room, provide a pop of color and energy to a space, or simply provide a soft, comfortable landing for your bare feet. Many of us automatically think of a rug as one of the essentials for a living room. However, there are occasions when no rugs are appropriate:
You haven't made up your mind.
Your pets prefer to mark their territory.
Your floors are stunning.
It's simply a style choice.
Should you get a rug for a carpet living room?
Apart from the understandable reasons leasing and therefore unable to replace the carpet, your carpet is exhibiting signs of wear in areas you'd prefer to conceal, etc.—do it if you want to! Area rugs are an excellent way to breathe new vitality into a room. They can give a burst of color or dimension to a room without requiring a complete makeover. The possibilities for area rugs are practically endless.   Ambiente Modern Furniture has a wide array of rugs of all sizes, styles, and colors in stock that will complete your living room – check out our inventory today to find the perfect rug for your home.
How Much of Your Living Room Should a Rug Cover?
The size of your rug is influenced by the magnitude and shape of your room, as well as the furnishings in that room. In a living room, a rug should always be the same length as the room – and the length of the sofa. If your living room is long, the rug should be laid horizontally to follow suit with the rest of the room.
It's standard advice to choose a rug size depending on the configuration of your furniture rather than the size of the room itself. Some layouts benefit from allowing a portion of the floor to be seen around the room's perimeter. As a result, the most important rule to remember when choosing the right rug size is to prioritize furniture arrangement over room size.
Use this trick if you're having difficulties imagining how a rug size fits into a given room. According to the standard measurements stated above, measure out a floor space depending on the size you estimate you'll need before you go rug shopping. Then tape off the area you just examined with detachable masking tape or something similar that won't affect your floor. You'll be able to visualize how rugs of that size might go into your room.
Ambiente Modern Furniture
Can you imagine your living room without a rug? It seems pretty impossible not to have a carpet in the living room as without rugs living room looks incomplete also; rugs are super warm and soft.  Ambiente Modern Furniture offers an array of beautiful rugs that will fit perfectly into not only your living room, but any room in your home.  If you are not sure if a rug is a good fit in your living room or if you simply want help choosing the perfect rug for your home, please fill out the contact form below and someone will be happy to help you make your living room the most enjoyable space possible.
Questions about a product, shipping, locations or other? Let us know about it.