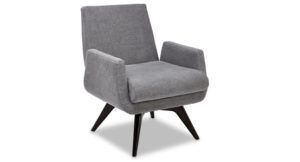 Do you wish for your house to be perfect? If yes, then you came to the right place. Furniture is the comfort point of the house. The main element of furniture is the accent chair. Accent chairs are a type of furniture that compliments the design of a living room, hallway, or bedroom by adding different visual appeal. Most individuals, though, prefer to buy matching furnishings. Accent chairs, also known as occasional chairs, feature chairs, or even love seats, are typically purchased as a pair to complement the décor of a space. When used in this context, the term accent implies to accentuate or emphasize, which is precisely what this chair should do! A well-positioned accent chair can bring charm as well as functionality to any house and maybe put in the living room, corridor, bedroom, or even the bathroom.
So, if you're looking for an accent chair, you could be unsure if you should acquire a matching one or a mismatched one. As a result, a common question may occur in your mind: do accent chairs have to match or not. There are no restrictions stating that an accent chair must complement the decor and other furniture design, style, or color of any space. People who aren't scared to take risks, on the other hand, can match accent chairs to the room design, similar style, other furniture, comparable materials, or matching throw cushions. This article will clear all your doubts. So don't wait and read the article to know everything about accent chairs.
What Is A Good Color For An Accent Chair?
Accent chairs can make your living room more alive and happening because it makes an extra seat for your guest, and your furniture will look more attractive. When it comes to choosing an accent chair, you should know that the color of your accent chair depends upon the rest of your furniture, but still, there are some common colors through which you can make a decision that which accent color will go with your furniture.
1) Colors that are complementary to each other can be chosen.
One of the quickest methods to select an accent chair color is to match it with other colors in the room. If your room has a lot of blue in it from lighting, rugs, or artwork, use an orange-colored accent chair. If you must combine it with a huge green sofa, you may also add a deep violet chair.
2) Go for something unexpected
Accent chairs are supposed to add a unique design element to your home, so you may experiment with color. Most crucial, choose a color that you adore but would not ordinarily wear.
3) Choose colors that go well with the rest of your furniture:
You should match the color of your accent chair to the rest of the furniture in your room. It will not only look elegant to your space, but it will also be an eye-catching mix.
Should You Put Two Accent Chairs In One Room?
It's nearly hard to call a place a living room if it lacks chairs, a sofa, or a couch. In a living area, a sitting set consisting of one or more chairs or sofas is essential.
Some chair sets are purposefully designed to give a specific interior style in a living room. Some owners are willing to spend a large sum of money on specialized seating sets for the intended living room overall design.
In case you're unfamiliar, an accent chair is not like any other type of seat. It emphasizes what is around it, as the name says. These chairs may give color to a dreary space, become the primary issue of a room, draw out a hue more, or match the colors and décor you already have in the living room.
Depending upon the size of your room where you are planning to keep the accent chairs and also furniture you are matching your chairs with. If your room is spacious, you can keep two accent chairs.
Should Two Accent Chairs In One Room Be The Exact Same One?
Accent chairs do not have to match each other or every color and hue in a space, but they should complement and flow with the hues on the exhibit. That is, if you have a room with paint, an accent chair should be a color that blends with the white and enriches the appearance, such as green or blue, maybe red.
An accent chair isn't supposed to be a carbon replica of the sofa or other chairs in the room, but it may be if you want it to be. An accent chair is a single-seat chair in a room that directs the eye to other design elements around the area. Consider an accent chair to be a side table or nightstand.
You may also coordinate many accent chairs by covering them with the following items:
Comparable blankets
Throw pillows that match
Cushions that match
This generates some resemblance and aids in matching the room and associated furnishings. It will make the area and its design appear much more coherent and, as a result, peaceful.
In terms of fashion, an accent chair is similar to a watch or a little bracelet: it is an accessory, not the focal point of the outfit. You do not match your complete clothing to your watch when getting ready. You construct your costume and then match your watch to it after it's finished.
Can You Have Different Style And Color Accent Chairs In The Same Room?
Unless you have a truly (and I mean really) large room, don't worry too much about getting matching side or accent seats. A smattering of mismatched chairs in a large room might give the impression of a flea market. However, in a small living room with only two or three chairs, it makes more sense to mix and match different pieces to bring some unique forms, patterns, and styles.
As previously said, it is beneficial to synchronize several aspects of your chair selection. In this room, we picked a neutral mid-century-style chair in light camel leather that contrasts nicely with the brighter Arctic Blue accent chair. Choosing a neutral chair and a colorful accent chair is a simple way to maintain harmony, but you may also go loud and dramatic if you locate two chairs that have other coordinating aspects, such as similar wood tones or upholstery designs.
Conclusion
Accent chairs are a type of furniture item that can serve as a finishing touch or play a more prominent part in the overall appearance of a space. There are several styles, colors, and patterns to choose from, so there is something for everyone. So if you're thinking to purchase an accent chair, check out our inventory here at Ambiente Modern Furniture. Please fill out the contact form below if you have any questions about our pieces because we have interior design experts on hand that can give you the answers you are looking for.
Questions about a product, shipping, locations or other? Let us know about it.