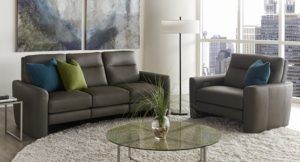 There's no better time to furnish your home than during the holidays. Ambiente Modern Furniture offers upscale modern and contemporary furniture from select top of the line American and European manufacturers. We are proud to offer our lowest prices of the year during this holiday season and would love to help you furnish your space and transform your living environment. With sleek lines, pristine design, and immaculate attention to detail, we are confident that after seeing the selection furniture in our gallery, you will fall in love. 
Our helpful and professional furnishing specialists would love to sit down with you and learn your unique style and what exactly you want for your space. We will then introduce you to handpicked pieces that would work best for your home or business. At Ambiente we realize how important it is to make sure that guests and family are provided with a comfortable space to relax and spend time together. Shop Ambiente this holiday season, and furnish your home with the modern furniture pieces that will contribute to a modern aesthetic.
Modern living room furniture Christmas sale in Raleigh
If you are looking to redesign or spruce up your current living space, look no further than Ambiente. We have many designs available that can be tailored to your specific taste and style. Whether you are looking for pieces that are more detailed with intricate leathers and textures, or you desire more natural elements, we have the perfect piece for you. Our American Leather Astoria comes in many different designs and functions that you may choose to suit your specific space. Available as a sofa, loveseat, chair, and even a customizable sectional, the Astoria can fit into almost any room. Be sure to take advantage of great pricing on the Astoria and the rest of our selection of modern living room furniture during the Christmas modern furniture sale at Ambiente Modern Furniture in Raleigh.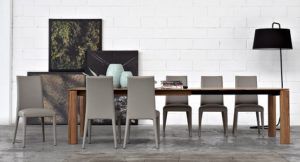 Modern dining room furniture Christmas sale in Raleigh
The holidays are the perfect time to host your closest friends and family over in your home for a gathering. Nothing creates more of an intimate and inviting setting than the modern dining sets available at Ambiente Modern Furniture. Similar to our living room sets, the dining sets here at Ambiente are very versatile and incredibly functional. Designed to function individually or create a cohesive set, you cannot go wrong with one of our dining sets. Whether you are looking for an intimate table for two or an elaborate table for twelve, we want to enhance your dining experience and help give your guests the space where memories are created. Be sure to stop by Ambiente during the dining room furniture Christmas sale.
Come shop our Christmas furniture sales at Ambiente Modern Furniture!
The Christmas modern furniture sale at Ambiente Modern Furniture is a great opportunity to get a great price on a new piece of modern furniture. Ambiente offers an incredible selection of modern furniture for every room in your home. Whether you want to redesign your interior with new modern furniture or are just looking for a fresh new piece to pull together the modern design of your space, you will find what you are looking for at Ambiente. Be sure to stop by during the modern furniture christmas sale in Raleigh to take advantage of great pricing on our most popular brands. If you have any questions about this sales event give us a call or fill out the online contact form below. One of our friendly team members will be more than happy to assist you. 
Questions about a product, shipping, locations or other? Let us know about it.