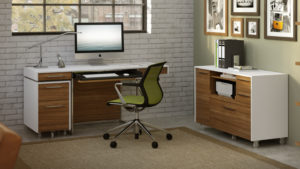 When working from home, creating a space where you can be productive is key. Being productive can prove to be difficult if you do not have a dedicated workspace. A desk is the cornerstone of an efficient home office. When designing your work from home space, choosing the right desk is one of the most important decisions that you will make. There are a few different things that must be considered when buying a work from home desk. In this resource we will share some of the things that you should look for when shopping for a desk for your home office. 
Here at Ambiente Modern Furniture, you will find a variety of modern and contemporary desks that provide a distraction free work surface for your home office. Feel free to come browse the selection of desks at our furniture gallery in Raleigh or online. 
Continue reading below to learn more about what you should look for when buying a desk for your home office. 
How to design a productive home office 
There are a few elements that should be kept in mind when creating a home office space that will breed productivity. Productivity is maximized when you are able to work in a clean, organized and distraction free area. Creating a clean work space makes it much easier to focus on the job at hand. When there is clutter around your workspace, you will struggle to work in an efficient manner. Another important element that should be implemented in your home office space is organization. Organization helps reduce clutter and improve cleanliness in your workspace. Those who work in an organized home office tend to be more productive. Here at Ambiente Modern Furniture, you will find a variety of home office desks that will help you be productive while working from home. Below
 you will find some of the benefits you will enjoy when you incorporate a modern desk into your office space. 
Benefits of a modern work from home desk 
Modern office desks combine all of the elements that are required to create a productive work space. Modern desks feature simple designs and clean color schemes that help reduce distractions and increase your productivity at home. The selection of modern desks here at Ambiente Modern Furniture offers desks of various different styles and colors that each provide a simple yet unique work surface for your home office. Come visit Ambiente Modern Furniture today to experience our incredible selection of modern desks and workstations. 
Shop work from home desks at Ambiente Modern Furniture
Ambiente Modern Furniture specializes in helping customers find great deals on modern pieces for their home. We have an amazing selection of furniture for every room in the house. Our team hand selects only the finest modern furniture brands to display in our galleries. If you are searching for a modern desk or workstation, our design consultants will be happy to help you select the perfect piece for your space. Fill out the online contact form below if you have any questions about selecting a modern office desk. We will be more than happy to answer any questions you may have.
Questions about a product, shipping, locations or other? Let us know about it.