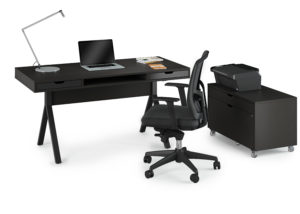 People who often work from home must create a workspace that breeds productivity. When designing a home office, it is important that your design limits distractions and maximizes your ability to complete meaningful tasks. Discomfort is one of the biggest distractions that you can face while working. For this reason, having an office chair that provides you a comfortable place to sit is imperative. When shopping for an office chair for your home office, there are a few different things that you should keep in mind. If you are in the market for a comfortable modern office chair for your home office space, come browse the selection available at Ambiente Modern Furniture Gallery. 
Ambiente Modern Furniture specializes in providing customers with a luxurious selection of modern pieces for every room in your home. Our experienced design consultants are more than happy to help walk you through our selection of modern office chairs and help you select one that will not only match your home office aesthetic, but also provide exceptional comfort all day. 
Continue reading below to find out what you should look for when buying a home office chair. 
Modern work from home office chairs
When it comes to creating an environment that is ideal for efficient work at home, an ideal aesthetic is modern or contemporary. Modern and contemporary interior design focuses on simplicity and cleanliness. The simplicity of modern design minimizes distractions and allows you to focus on your work. It has been shown that minimalistic and modern office spaces lead to greater focus and more efficiency while working. When designing a work from home office, having an office chair that matches your modern aesthetic will bring the room together as well as offer you an ergonomic place to sit while you complete your work.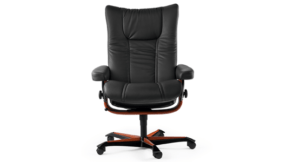 Here at Ambiente Modern Furniture, you will find office seating from the top brands in the world. We hand pick every piece of furniture in our gallery to ensure that our customers find a piece that will not only match their aesthetic, but function beyond expectation. We encourage you to stop by our gallery in Raleigh or Asheville to experience our incredible selection of modern office chairs.
Modern work from home chairs in NC
Ambiente Modern Furniture strives to provide the best collection of furniture possible. Whether you are looking for a new sofa, a new bed or even a new office desk, you will find a number of amazing options at our modern furniture galleries in Raleigh and Asheville. Our design consultants will work with you to ensure that every piece of modern furniture that you select will seamlessly blend into your space and function as desired. If you are in the process of redesigning your home office, or would simply like to upgrade your current office chair to a modern and more functional piece, Ambiente Modern Furniture can help you. If you have any questions about our inventory, feel free to give us a call or fill out the online contact form below. One of our friendly team members will be more than happy to assist you.
Questions about a product, shipping, locations or other? Let us know about it.