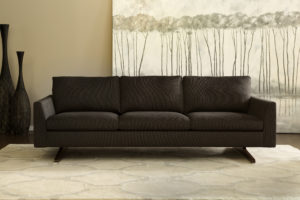 Designing a well-furnished and decorated room requires attention to detail and intentionality. As the designer, you have to think of what catches a guest's eye and what the overall mood of the room will be. A key component of the mood of the room comes from the color of the walls. With more and more consumers leaning on the neutral side when it comes to decorating, the forever popular and consistent beige color is becoming a hot trend in the interior design world. It can be found in both homes and businesses, and with the proper decor pairings, this subtle and neutral color can really make your space come alive!
What color sofa is best for beige walls?
If you are among the many who chose the subtle color of beige for your walls, you may be stuck with the dilemma of pairing beautiful furniture alongside it. The natural color of your walls should be noticed and not be in competition with your furniture. Similarly, the furniture should elude the cohesive and sophisticated mood of the room and act as the centerpieces and anchors of the space. Our interior design professionals at Ambiente Modern Furniture have honed in on their decorating skills and helped clients pair sofas with beige walls time and time again. They have found that sofas in stark contrast with beige tend to look best when paired with beige walls. Colors like blue, red, green, black all could pair beautifully with beige walls. Let our design team at Ambiente help you determine which is best for your particular space! 
How to choose a sofa for a room with beige walls
At Ambiente Modern Furniture, we offer state-of-the-art furniture that has been handcrafted by artisans thinking with the consumer in mind. Among the many pieces of furniture that we offer are our sofas. Ambiente is proud to carry more than thirty sofa options, all customizable to fit your unique needs and style. Not sure which Ambiente sofa would best suit your space? Our team of highly skilled and friendly interior design consultants would be more than happy to help you determine which sofa would work best for you! Whether it's determining style or the perfect shade to complement your beige walls, our team is here to help. 
Contact Ambiente Modern Furniture for Interior design consulting. 
Ambiente Modern Furniture is here to serve you in the best way we know how to. Our furniture is quality and timeless, and our customer service is just as reputable. If you are looking to revamp your space, we would love to be a part of that process! Contact us today at 919-572-2870 or 828-412-5505 to speak with a member of our interior design consulting team to start this fun process today! Share your dreams with us, and we will make them come to life!
Questions about a product, shipping, locations or other? Let us know about it.