Having a home bar is essential when you are planning to have a modern home design. When you have a home bar, it gives you a reason to bring friends and family over and have a good time. Home bars are just a great conversation starter. When someone visits your home, there is a high probability that they will ask you what your favorite cocktail to make it and you may even make them a sample! Other than being a super fun addition to your living space, a home bar can add a bit of personality to the room. Here are some of our favorite home bars:
BDI Corridor Bar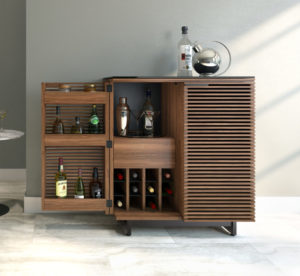 Unexpected guests can happen at any time, but you'll always be prepared with the Corridor Bar. With this home bar cabinet, you can store all your spirits, glassware, and bar tools in one place. No more looking through your silverware drawer to find a bar spoon or your shaker. With the horizontal ribbing on the front of the cabinet, this home bar is the perfect cocktail of style and function. Double-louvered doors open fully on this bar, providing easy access to everything a stocked bar needs. This piece is available in natural walnut, chocolate stained walnut, & charcoal stained ash. 
BDI Cosmo Bar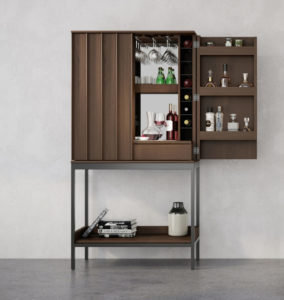 You never need an excuse to entertain when you own the BDI cosmo bar as it is a piece of entertainment within itself. The Cosmo bar accommodates everything a fully stocked bar needs and closes up when the party's over. Maybe you can show off your bartending tricks to those accommodating you for the evening. Hosting the perfect party or capping off the night, the Cosmo Bar is an intoxicating mix of function and style. This cabinet is available in toasted walnut or ebonized ash.
BDI Tanami Bar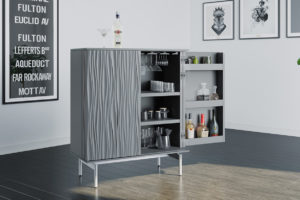 Make some waves with the Tanami bar. Behind the fluid design of its sculpted doors is ample storage for everything a fully stocked bar needs. Contrasting straight lines with flowing, sculpted patterns, Tanami is a stunning modern bar cabinet. Featuring generous storage for bottles and glassware and with a striking design, this cabinet creates a home bar that is sure to be the center of the conversation. This home bar is available in satin white or fog grey.
Ambiente Modern Furniture
We sell all of these pieces at Ambiente Modern Furniture. If you are looking for a home bar to fit your mid-century modern style, one of these choices would be a perfect fit for you. Don't hesitate to contact us and ask any questions about our home bars or other furniture as we will be happy to help!