If you are planning to decorate your home office with a mid-century modern look, the first thing you probably thought to get was a desk. What kind of desk will be a good fit for your new office? This article shows some of the best mid-century modern desks out there.
BDI Modica Desk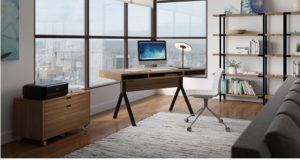 This platform desk has a unique midcentury modern look as it stands on a trestle base and has an open shelf for storage space in the center of the desk. On either side of the center space, there are more options for storage with two drawers. This office desk is available in 2 finishes – Charcoal Stained Ash and Natural Walnut. 
BDI Format Desk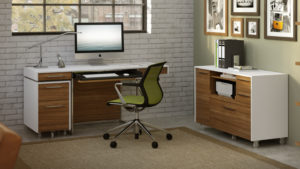 The Format Desk features a centered drawer for a keyboard, mouse, and/or storage of rechargeable items. The drawer is covered by a flip-down piece that gives the desk a clean look. This desk can be supplemented by other pieces in the BDI home office collection. This piece is available in 2 finishes – Charcoal Stained Ash and Natural Walnut.
BDI Cascadia Console/Laptop Desk
The Cascadia desk is designed to fit in smaller spaces as it has a thin stance. Whether used as a console or as a shallow laptop desk, this piece is the perfect height for work. This desk features a midcentury modern look with a combination of metal legs and a wooden top. There are plenty of options to choose from with this desk as it comes in four finishes – Chocolate Stained Walnut, Espresso Stained Oak, Natural Walnut, and Satin White.
Copeland Invigo Sit-Stand Desk
The Invigo Sit-Stand Desk by Copeland has many features to offer to your workspace and is designed in a way that is highly customizable. Sitting down all day can affect your posture and health. Standing desks are a way to remedy bad posture and get you on your feet for part of your day.
This desk can be customized to your taste with its different ranges of shapes and sizes. The desk has three programmable positions that are adjustable from 25 to 51 inches in height. This desk also comes in three finishes – solid cherry, solid walnut, and solid ash hardwood. This is a highly customizable option for your modern office space.
Ambiente Modern Furniture
All of these pieces are available at Ambiente Modern Furniture. Browse Through our office collection to find matching pieces in these collections and create your dream office. We have matching modern filing cabinets to pair with these desks along with office seating.