A modern coffee table can really bring some character to your living room space. If you have decided on going with a modern living room design, a unique coffee table can set the room apart. There are many different modern coffee table designs, but here are a few of our favorite.
BDI Terrace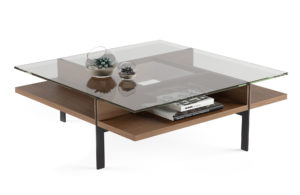 This coffee table grouping is beautiful and will fit in well with any space. The tempered glass top of this coffee table shows through to the storage shelves underneath the surface. The table is constructed well with thick panels and steel supports. The pattern you can see through the glass adds a nice geometrical touch to the room as well.
Copeland Check
Each one of these striking occasional tables has been designed to re-imagine traditional forms and style idioms to create compelling visual focal points wherever they are used. This table has a unique leg design that is the focal point of the piece. The base of the table uses triangular shapes to portray a mesmerizing pattern underneath the 15mm glass top. The tables are crafted in solid American black walnut. The finish of this coffee table is GREENGUARD Certified for low chemical emissions.
Copeland Pivot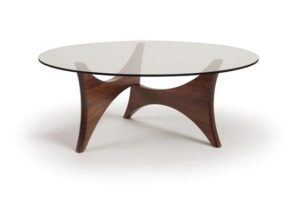 Let your living room make a statement with the Copeland Pivot. This coffee table brings optical illusion to your living space. The placement of the legs on this table allow it to be perfectly stable while giving the illusion that it is not. It appears that the table is balancing on two legs from one angle. This coffee table is a conversation starter because of its very unique design. 
Elite Modern Poly
Poly tables feature a distinctive three-part steel base supporting polygon-shaped tops offered in either steel or wood. An abstract laser-cut starburst pattern graces the solid steel tops, while rich walnut veneer caps off the wood version. Available in two sizes and two heights, Poly lets you create many dynamic two-tiered compositions. Plus, you can mix-and-match any or all of Elite's metal and wood finishes. Dress up Poly for a more formal look, or let her be fun and funky— the choice is up to you!
Ambiente Modern Furniture
All of these pieces are available at Ambiente Modern Furniture. Don't hesitate to order a coffee table to give your living space some flavor. These coffee tables pair great with our modern sofas and living room sets. Browse our selection of living room furniture and order what you would like today!