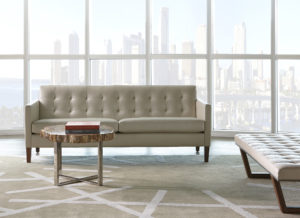 Make sure you know what will fit
Before starting your apartment furniture hunt, make sure that you know everything about the space you will be furnishing. It would be pretty difficult to pick the right size furniture if you are not even sure how big your room is. Use a tape measure to find the length and width of the unfurnished room in your apartment. It is best if you do a quick sketch of the room on a piece of paper and write down all of your measurements. It is a good idea to also bring a measuring tape with you if you are shopping for your new furniture in person. 
Small furniture options
Loveseat: The loveseat is the perfect size for small rooms. If you are struggling to find a sofa small enough to fit in your living room, you might want to consider a loveseat. Like a mini couch, a loveseat will fit well in most small rooms and can be accommodated with an accent chair and coffee table.
Accent chair: Accent chairs are like a piece of art that you can sit on. An accent chair can add a touch of design to your living space and also double as seating. You can find accent chairs in many different sizes and pick the one that fits the interior design you are going for.
Small sleeper: If you are looking for small furniture for your small apartment, you may have never thought about entertaining friends and family from out of town. Sleeper sofas can be a great option for utilizing every room in your small apartment. If you have guests, and no guest bedroom, a sleeper would be a great investment.
Think about storage space
If you are shopping for small apartment furniture, there is a good chance that you don't have a ton of extra square footage, right? Looking for furniture with extra storage space would be a good idea. Picking an entertainment stand or coffee table that has extra storage will allow you to utilize the space your furniture will go. Instead of picking a piece of furniture that only has one function, pick a piece that is multifunctional.
Ambiente Apartment Furniture
We have beautiful modern style furniture that can give your small apartment space the look and feel it needs. Browse through our selection of loveseats, accent chairs, and sleepers to find the perfect piece for your apartment. We even have an "apartment sofa" size option available for many of our sofas. We offer modern furniture with extra storage space, like coffee tables and entertainment stands.
Questions about a product, shipping, locations or other? Let us know about it.