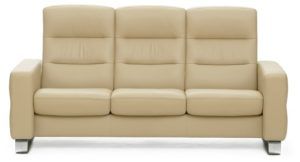 If you are looking for a comfortable sofa that will easily blend into any living room style, you can't go wrong with the Ekornes Stressless Sofa family. These sofas seamlessly integrate into almost any living room and provide an incredibly comfortable lounging experience. Ekornes Stressless Sofas are available in a variety of unique designs. If you are interested in taking home your very own Ekornes Stressless Sofa, come visit Ambiente Modern Furniture. 
Ambiente Modern Furniture is a furniture store that focuses on providing customers with a diverse selection of contemporary furniture pieces. Ekornes is one of our most sought after furniture brands. If you are looking for a couch that will transform your home, come experience an Ekornes Stressless Sofa for yourself at Ambiente Modern Furniture. We have showroom locations in both Raleigh and Asheville.
Questions about a product, shipping, locations or other? Let us know about it.
Ekornes Stressless Sofa For Sale Raleigh, NC
Ambiente Modern Furniture has a large selection of Ekornes Stressless Sofas. If you are looking for a sofa that is loaded with luxurious features, the Ekornes brand is a fantastic choice. Whether you are looking for a high back stressless sofa or a low back stressless sofa, you will find what you are looking for at Ambiente. 
Here are just a few of the Ekornes Stressless Sofas that you will find when you visit an Ambiente Modern Furniture showroom: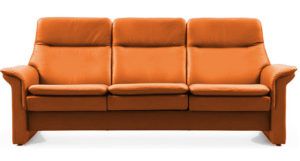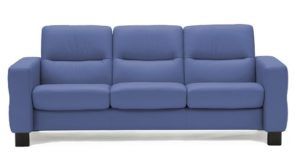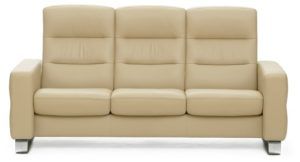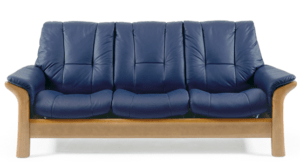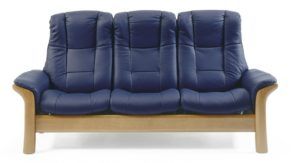 Low Back vs. High Back Stressless Sofa
When buying a Ekornes Stressless Sofa, one of the variations that you will get to choose from is the height of the back. You will have two different back options to choose from when you buy a Stressless sofa; high back and low back. The difference between the high back and low back Ekornes Stressless sofas is how high the backrest extends above the seat cushion. A high back sofa will extend higher and provide more support for your shoulders and head while a low back will only support your back. 
If you want a couch that is going to cradle your head and upper back, you should consider the high back option. If support is not something you are particularly concerned with, the low back version may be perfectly suited for your needs. If you are unsure of which back option is right for you, we encourage you to come visit one of our Ambiente Modern Furniture showrooms so you can try both options for yourself.  
Visit your local Ambiente modern furniture gallery to experience the Ekornes Stressless Sofa for yourself. You will be blown away by the quality and comfort that this sofa offers. Give us a call or fill out an online contact form if you have any questions about these amazing pieces of furniture!
Questions about a product, shipping, locations or other? Let us know about it.