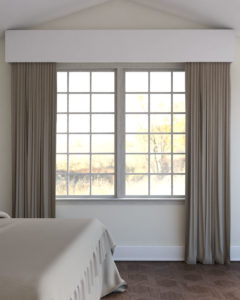 Do you have beige walls and are unsure of what color curtain would look best paired with it? You are not the first person to have this dilemma, and certainly not the last! When designing a space, the color of the room plays a key role. Arguably, the second most important aspect of a room aside from the color is the window treatments. Curtains are often preferred among consumers because they offer privacy, convenience, and style. If you are in the market for customer service and care from a company that offers incredible home and business furnishings, look no further than Ambient Modern Furniture. With locations in both Raleigh and Asheville, our design specialists would love nothing more than to dream up your new space with you. Whether you are designing an entirely new space or are refreshing one, our team at Ambiente Modern Furniture is here to help you!
What color curtains look best with beige walls?
Our design specialists at Ambiente would argue that the best rule of them when determining curtain color is to accommodate the existing wall color. Look at the walls of your space and then go one shade lighter or darker. In other words, if your walls are beige, it would look best to pair darker or lighter beige curtains with the wall color. This myriad of beige coloring will complement the room and give it a more cohesive and thought-out look. 
How to choose curtains for a room with beige walls? 
Along with choosing the appropriate colored curtain, the style of curtain is also pivotal as well. The curtain's style, along with the color, ultimately depicts the mood and posture of the room. If you are looking for a modern and sophisticated atmosphere, consider eyelet curtains. Looking to style an elegant dining area? Look into various types of pleated curtains such as a pinch pleat or a goblet pleat. The style of curtain helps determine the room, and when it is paired with the perfect color, it is the easiest way to finish off a room's decor. 
Contact Ambiente Modern Furniture for Interior design consulting
If you are in the process of researching designs and dreaming of decorating your space, our interior design specialists at Ambiente Modern Furniture would love to serve you! Our friendly and talented team of interior design consultants would be happy to speak with you and help determine the best furnishing and decor pieces to appropriately make your space yours. Give us a call at 919-572-2870 for our Raleigh location or 828-412-5505 for our Asheville location. We look forward to hearing from you and helping with your next design needs! 
Questions about a product, shipping, locations or other? Let us know about it.